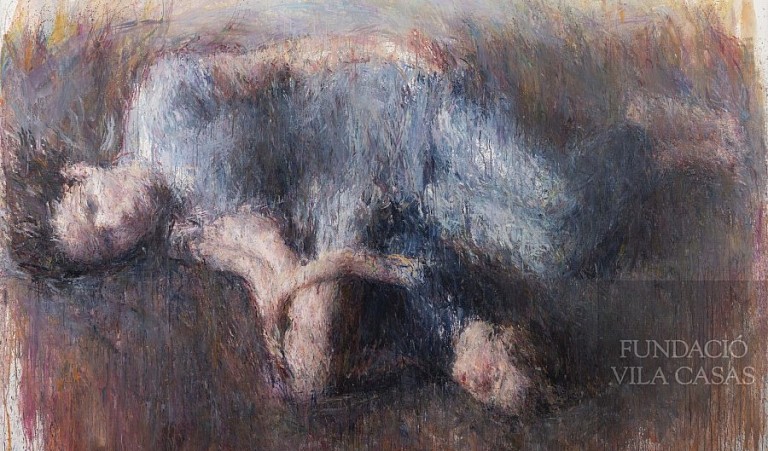 We are glad to announce "Visage Paysage", solo exhibition at Fundació Vila Casas
October 15, 2021
The French-Israeli painter Daniel Enkaoua, who settled in Barcelona almost twenty years ago, researches the human figure with an unusual intensity. By following the same models year after year and by magnifying their vulnerability, the artist endows his characters with a capacity for a fascinating irradiation, both chromatic and psychological; it is a simultaneously powerful, material and spiritual presence.
In Enkaoua's artwork, human figures are found at the intersection between two other themes which interest him: the humble object, still lifes with an impressive simplicity and density; and the landscape, bright, ascetic immensities that create an especially eloquent mirror of the Israeli deserts and the vastness of the Penedès and Catalonia.
This exhibition, curated by the writer Grégoire Polet, brings together the essence of Enkaoua's work, in addition to earlier works that are considered to be indispensable.
15/10/21 - 2/1/22
Read More on Fundacio Vila Casas' website>>
Spanish:
Nos complace anunciar "Visage Paysage", exposición individual en Fundacio Vila Casas, Barcelona
El pintor franco-israelí Daniel Enkaoua, instalado en Barcelona hace ya casi veinte años, investiga la figura humana con una intensidad poco habitual. Siguiendo a los mismos modelos año tras año y magnificando su vulnerabilidad, el artista dota a sus personajes de una capacidad de irradiación fascinante, tanto cromática como psicológica; una presencia potente, material y espiritual al mismo tiempo.
En las obras de Enkaoua, las figuras humanas se encuentran en la intersección de otros dos temas que le obsesionan: el objeto humilde –bodegones de una simplicidad y densidad conmovedoras– y el paisaje –inmensidades luminosas y ascéticas que sugieren un espejo especialmente elocuente de los desiertos de Israel y de las vastedades del Penedès y de Catalunya.
Esta exposición, comisariada por el escritor Grégoire Polet, reúne la esencia de la producción reciente de Enkaoua, además de obras anteriores que se consideran indispensables.
Leer más en el sitio web de la Fundacio Vila Casas >>
Back to News