BIOGRAPHY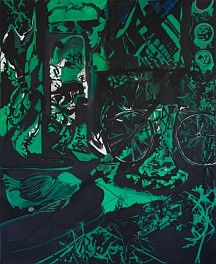 Avner Ben-Gal (born 1966) is an international painter and artist, working mainly from Tel Aviv, Israel. His works depict various intense, often neglected locations such as agricultural fields, prisons and smoky interiors, whereby theatrical scenes play out. The scenes present ghostly, rough hewn and often low life figures that are bare and hardened. The parallel between Ben-Gal's raw way of painting and his tough, ambiguous subject matter allows a unique intensity within his paintings.
Avner Ben-Gal studied at Bezalel Academy of Art and Design, Jerusalem. Over the years his work has been shown in solo shows at museums such as the Tel-Aviv Museum of Art (2002, 2009); Museum für Gegenwartskunst, Basel, Switzerland (2008); and the Aspen Art Museum, Colorado, United States (2007). Ben-Gal also participated in group exhibitions in major museums and galleries worldwide, including at the Museum Boijmans Van Beuningen, Rotterdam, and as part of the Venice Biennial Venice 2003. A number of books have been published on his work, notably a catalogue to accompany his 2008 show in Basel.
Ben Gal is the recipient of numerous awards, including; Rapaport Award For An Established Artist, Kollner award for excellent young artists, Bezalel Academy, Jerusalem and Mary Fischer award for excellent young artists, Bezalel Academy, Jerusalem. Ben Gal's works are kept in public and private collections worldwide.